Chest Liposuction
Offered at our convenient location in Denver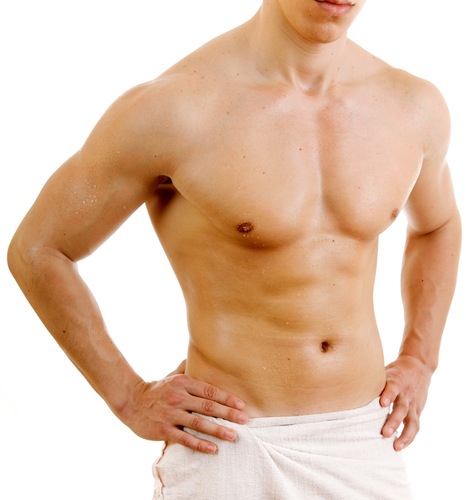 Do you keep your shirt on at the beach, worried about a sagging appearance?
If you are unhappy with your breasts or pectorals, Chest Liposuction at Millard Plastic Surgery will completely transform your chest and deliver your best body in a single, customized procedure.
If you are a woman who is unhappy with the appearance of her breasts and fatty tissue, or a man who desires a flat, sculpted chest, chest liposuction can be an ideal, life-changing solution.
To learn more about Chest Liposuction and how it safely and effectively eliminates fat and sculpts the body, schedule a private, informative consultation at our Plastic Surgery Center in Lone Tree today.
About
Chest Liposuction is a safe, FDA-approved fat elimination and body contouring surgery. Dr. John Millard frequently performs chest liposuction with VASER Hi Def to deliver his patients' preferred upper body contours.
VASER Hi Def Lipo is the most advanced liposuction method available today!
VASER targets stubborn fat deposits with ultrasound technology. The gentle ultrasound waves safely dislodge the fat for easy removal. Unlike procedures that use laser energy to break down fat, VASER's ultrasound energy will not harm surrounding tissues. The procedure is highly customizable and will be tailored to your unique goals and physique. VASER Hi Def will not only eliminate your fat, but it will also sculpt your chest into your desired smooth or muscular contours. VASER Hi Def will additionally tighten the skin to improve the lift and contour of the breasts or pectorals.
If you would like to reduce the fat on your chest or improve the look of your breasts, chest liposuction is an effective, long-term solution!

Meet Dr. John Millard
Dr. John Millard has decades of body contouring experience. Dr. Millard has taught advanced liposculpture techniques to other surgeons around the world for more than 15 years. He has contributed his own innovation to the VASER procedure with the development of the V5 probe. Dr. Millard's improved probe design increases the procedure's efficiency, thereby reducing procedure and recovery times.
Dr. Millard was the first surgeon to perform VASER Hi Def Liposuction in the US!
Dr. Millard's expertise enables him to achieve impressive VASER results using only small incisions and slim, delicate equipment. Patients experience minimal scarring. He performs VASER Hi Def carefully to ensure ideal fat elimination and grafting is achieved.
Few doctors can contour the chest quite like Dr. Millard. To learn more about the benefits of VASER Hi Def at Millard Plastic Surgery, schedule a private consultation today.
Candidates
In order to receive chest liposuction, candidates should be non-smokers who are at a stable weight. Candidates who smoke will be asked to discontinue smoking at least one week before and for one week after their procedure.
Chest liposuction is intended to help patients get rid of stubborn fat that refuses to respond to diet and exercise. It should not be received as an alternative to healthy weight loss methods. Chest liposuction is designed to help patients put the finishing touches on their physique and address fat that does not respond to lifestyle changes, like fatty breast tissue or gynecomastia in men.
If you have completed the majority of your intended weight loss and have a positive but realistic expectation of the outcomes achievable with chest liposuction, you are a good candidate for the procedure.
Chest Liposuction for Women
Breast implants are not the only way to improve the look of the breasts! Dr. Millard skillfully performs chest liposuction with fat transfer to the breasts to reduce unwanted fatty tissue, sculpt the breasts, and tighten the skin of the chest for a smoother, more youthful look overall. This is an excellent way to add volume and improve your cleavage.
Results look and feel natural, because all work is done with your own tissue!
Dr. Millard highly recommends VASER Liposuction to female patients who would like to improve the shape and position of their breasts. Not only does VASER allow Dr. Millard to sculpt the breasts with minimal incisions and very little strain on the body, it also has the added benefit of lifting the breasts! VASER achieves impressive skin tightening; it is the only form of liposuction where a breast lift is achievable.
Women who have "fatty" breast tissue are also excellent candidates to smooth their chest and breasts with chest liposuction. If you are considering breast surgery, or are unhappy with the look of your breasts, VASER chest lipo will transform your breasts and achieve a more attractive hourglass effect overall.
Chest Liposuction for Men
Are you a man who has excess, fatty chest tissue? Chest liposuction is one of the top five plastic surgery procedures pursued by men today!
Many men can develop what is known as "male breasts," sometimes as early as their youth. Excess tissue in the pectorals may be a frustrating result of genetics, or it may be a result of a condition known as gynecomastia. Gynecomastia is a common issue for men: roughly 40 to 60% of men today are living with gynecomastia. Excess breast tissue makes most men self-conscious of their appearance. In some cases, the breast tissue may even become sore or tender. Gynecomastia is most frequently caused by an excess of estrogen in the system, but can also be a result of a number of factors including hyperthyroidism, steroid use, drug use, or simply aging.
Men who are experiencing gynecomastia or who have excess tissue on their chests are excellent candidates for chest liposuction with VASER Hi Def Lipo. VASER Hi Def will gently eliminate excess fatty tissue, tighten the skin, and improve muscular contours to transform male breasts into a smooth, athletic pectoral shape.
Men who are experiencing gynecomastia are advised to meet with their doctor before undergoing chest liposuction. Medication may be necessary to control the overdevelopment of the breast tissue.
To learn if you are a candidate for male breast reduction, schedule a private consultation for chest liposuction at Millard Plastic Surgery today.
Consultation
Dr. John Millard will meet with you privately to discuss your candidacy for chest liposuction and answer any questions you may have about the procedure. He will examine your chest and walk you through the steps of a VASER Hi Def chest liposuction procedure. Please share your medical history, medication use, and personal preferences for your procedure outcomes at this time.
Once Dr. Millard has a clear sense of your case and your goals, he will work with you to custom-tailor a chest liposuction treatment.
No matter your goals, if you are unhappy with the look of your chest, talk to Dr. Millard. He has a deep understanding of human anatomy and will be happy to share his professional recommendation. 
If Dr. Millard believes you will see your best results from further weight loss before you undergo a body sculpting procedure, he will share his medical opinion during your consult.
Procedure
Chest liposuction is performed within two to four hours. You will be under general anesthesia during the procedure, which will keep you unconscious and comfortable.
The steps of your chest liposuction procedure will depend on your unique anatomy and the details of your customized treatment plan.
In order to perform VASER-assisted lipoplasty, Dr. Millard will make small, strategically-placed incisions. These incisions are frequently made around the nipple or in the underarm area to allow convenient access and reduce the chances of visible scarring. Tumescent fluid will be introduced into the breast or pectoral. Tumescent fluid is a customizable combination of lidocaine, epinephrine, and saline. The fluid will cause the fat cells to swell, making them easier to dislodge from the body. 
Based on your goals for the chest liposuction procedure, Dr. Millard will next insert the VASER probe into the treatment area. The probe will emit ultrasound energy, which Dr. Millard will use to gently break down and suck out your unwanted fat. He will carefully remove your subdermal fat before moving on to deep compartment fat removal. Next, in order to achieve your desired contours, Dr. Millard will slim down and shape the superficial fat compartment. Dr. Millard will target both the chest and axilla to achieve the best upper body contours possible.
VASER also enables Dr. Millard to artfully graft your fat to the muscle to improve the contours of the male chest, or to improve the shape of female breasts.
If Dr. Millard is performing fat grafting, he will perform submuscular fat grafting, followed by intramuscular fat grafting. This will increase muscle projection, thereby improving the contour of the pectoral or breast. He may then perform subcutaneous fat grafting, followed by supra-glandular fat grafting. This will help to achieve the smoothest, most natural-looking contours possible.
The ultrasound energy along with supercial technique has the added benefit of promoting skin tightening, which will improve the tight contours of the chest and lift the breasts.
Once your procedure is complete, your incisions will be closed. You will be monitored until you are feeling comfortable and ready to begin your outpatient recovery.
Recovery
Due to the effects of the general anesthesia, you will not be able to drive yourself home following your chest liposuction procedure. We require a friend or family member to drive you to and from your appointment on the day of your surgery. 
Patients who receive chest liposuction with VASER liposuction will enjoy a shorter, more comfortable recovery. Chest liposuction used to require one to two weeks off work for recovery. Now, thanks to VASER liposuction at Millard Plastic Surgery, you can transform your chest and be back to work in less than a week! Heavy lifting and more strenuous activities should be avoided for at least two weeks.
Recovery times will vary based on the extent of your procedure and your body's unique healing profile.
Your chest will likely be bruised and swollen following chest liposuction. These conditions are normal and will reduce significantly over the first week of your recovery. The swelling will continue to subside for a month or more.
Patients will receive a compression garment to wear following chest liposuction. This garment will reduce swelling and help your body accept its new, tighter contours. You will return to Millard Plastic Surgery for a follow-up appointment the next day after your procedure.
Results
The outcomes of your chest liposuction will continue to improve as post-procedure swelling subsides.
You will begin to see the results of your chest liposuction within three weeks of your surgery. By the three month mark, you will see your final results settle into place.
Dr. Millard is dedicated to the Art of Human Anatomy. Whether you are looking for a flat, muscular chest, or for smooth, flattering breasts, the results of your chest liposuction will impress you! Your results will look and feel natural.
Once fat cells are eliminated from the body, they will not return. Patients who keep their weight stable with diet and exercise will see their best, longest-lasting outcomes from chest liposuction.
FAQ
How much does chest liposuction cost? 
Chest liposuction pricing depends on the details of the patient's individualized treatment plan. Once you and Dr. Millard have agreed upon your treatment plan, you will receive a cost breakdown that reflects your personalized chest liposuction procedure. 
Can you do liposuction on breasts?
Yes! However, not every liposuction method is created equal. VASER is an ideal liposuction technique because it eliminates and shapes fat, as well as tightens and lifts the breasts. Other liposuction methods cannot accomplish the same multi-level of fat grafting, nor will they lift the breasts.