EmSculpt Neo
Offered at our convenient location in Denver
EmSculpt Neo is an updated and more advanced version of the EmSculpt device, a treatment that contours the body, burns fat, and builds muscles with electromagnetic pulses. This new system adds the benefits of radiofrequency (RF) energy, to tighten and smooth skin, allowing you to achieve ​​comprehensive toning and beautiful aesthetic results in one effective combination procedure.
It can take many arduous hours at the gym for a patient to attain the body they desire. It also requires considerable effort on the part of the individual to maintain those results. Even the most efficient workouts cannot target fat in certain areas of the body, and cannot address skin laxity. And for people who lead increasingly busy lifestyles, it can seem impossible to find the time to work out every day without making sacrifices in other areas of their schedule. But with EmSculpt Neo, patients can see the results they want without the time-draining hassle of daily training sessions. Moreover, patients can now achieve their most advanced silhouette with no surgery or downtime required.
At Millard Plastic Surgery Center, we are proud to add EmSculpt Neo to our repertoire of services that help patients to reach their aesthetic goals. To find out more about what an EmSculpt Neo procedure can do for you, and to book your series of treatment sessions, arrange a personal consultation with one of our experienced surgeons for expert advice. Call our Denver office at (303) 792-5665 or send us a completed inquiry form to submit your request.
Before and After Photos
About EmSculpt Neo
As a groundbreaking two-in-one procedure, EmSculpt Neo uses a combination of two different energy types to get safe and effective fat reduction and muscle growth results. High-Intensity Electromagnetic technology (HIFEM) and radiofrequency (RF)) work synergistically to provide noticeable results in as little as four sessions!
EmSculpt Neo Treatment areas:
Abdomen
Love Handles
Arms
Buttocks
Thighs
Calves
What is HIFEM?
HIFEM is a safe and effective way to achieve noninvasive body shaping. (1) HIFEM devices like EmSculpt Neo and EmSculpt Classic use pulses of energy on the electromagnetic spectrum to stimulate muscle contractions many times faster than a person would be able to during regular exercise. A single EmSculpt Neo session creates approximately 20,000 muscle contractions in just 30 minutes! Even if you could manage 20,000 squats or crunches, you still wouldn't be able to get the same results. That's because HIFEM creates supramaximal muscle contractions, which are more intense than regular muscle contractions. As a result, patients can build muscle quickly without resorting to exhausting workouts that may impact their daily lives and energy levels.
HIFEM is an alternative to surgical treatments. This means, unlike more involved treatments, there is no anesthesia, there are no incisions, there are no stitches, and there is zero downtime needed.
Why Choose a HIFEM Procedure?
HIFEM technology is hugely advantageous for doctors and patients alike. This is because it simplifies and accelerates processes that would usually be incredibly time-consuming outside of a doctor's office. But what are the main differences between the new version of EmSculpt compared to the old one? And how does EmSculpt Neo "shape up"?
EmSculpt Neo vs. EmSculpt Classic
Though EmSculpt Classic is still a formidable option for achieving noticeable results in body shaping, there are some differences between the two devices. Leading the way with technological advancement, EmSculpt Neo achieves more effective results in that it can build more muscle and burn more fat than its predecessor. Put simply, this is because more energy can be focused on the target area. Furthermore, it has the added advantage of RF, meaning patients can accentuate their fat-burning and muscle-building with tighter, firmer skin in the treatment area.
What Can RF Do?
RF energy produces a fat-busting thermal effect, which is the key to the success of EmSculpt Neo. As part of the state-of-the-art EmSculpt Neo system, radiofrequency is a non-invasive treatment modality with numerous benefits that only serve to improve the procedure. It is a safe and completely non-invasive way to attain fat reduction through a process called apoptosis, the death of fat cells. And, when combined with HIFEM's muscle strengthening, toning, and firming, it can produce the most effective body-shaping results.
Results from EmSculpt Neo aren't merely anecdotal. Clinical testing shows that significant changes in both adipose and muscle tissues can be achieved with combination HIFEM and RF treatments. (2)
Candidates for EmSculpt Neo
EmSculpt Neo allows patients with BMIs as high as 35 to receive treatment. It is also highly effective for building muscle in slimmer patients. In general, patients should be in good general health and have no medical conditions that could affect the outcome of their procedure.
Who Should Not Get EmSculpt Neo Treatment?
Due to the presence of a deep magnetic field and radiofrequency energy, EmSculpt Neo is not suitable for patients with metal implants and pacemakers. Similarly, pregnant patients should wait until after they have their baby before undergoing EmSculpt Neo treatment.
Personal Consultation
We will discuss your needs during your personal consultation at our Denver office. This meeting gives you the opportunity to tell us about the issues you have had with building muscle and losing fat, and will allow you to outline the body-shaping goals you would like to achieve from EmSculpt Neo treatment.
We will perform a thorough examination of the areas you want to target and note where there is lax skin. At this time, we will outline how many treatments you are likely to need to achieve the most effective results and explain what you can expect to see at the end of your treatment. After this examination, and after taking your medical history into account, we will devise an individualized treatment plan.
What Can I Expect From EmSculpt Neo?
Before your treatment date, we will give you some personalized instructions to follow to optimize your results. On the day of your procedure, we will ensure you are lying comfortably before attaching the pad-like EmSculpt Neo applicator to the area you have chosen to treat. We will then program the system to the energy levels and duration you require for your treatment.
To get the most out of EmSculpt Neo, we recommend a series of 4-6 treatment sessions spread out over the course of several weeks.
Zero Downtime Treatment
Patients can look forward to noticeable results after just a few sessions, without the hassle and discomfort of a lengthy recovery. Usually, the most a patient has to deal with is mild muscle soreness!
EmSculpt Neo Prices & Packages
At Millard Plastic Surgery Center, we want to keep you informed about our pricing. Our introductory EmSculpt Neo rates are as follows: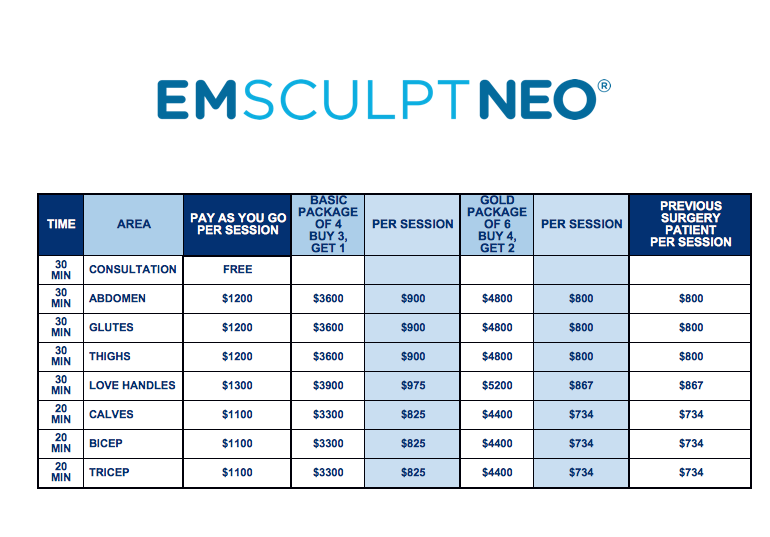 Cost of EmSculpt Neo in Denver
Your EmSculpt Neo treatment plan is unique to you. We offer per-session, pay-as-you-go, basic packages, and gold packages for your convenience so you can choose what suits you best. For financing options, please see our financing page.
To book your complimentary consultation with us, please contact our Denver office by calling (303) 792-5665 or by filling out a simple online inquiry form.
Check the Millard Plastic Surgery Center blog for more information about our body contouring procedures.
FAQ
What is the difference between EmSculpt Classic and EmSculpt Neo?
The main difference between the two systems is that EmSculpt Neo has a radiofrequency modality that helps to tighten skin. As EmSculpt Neo is the most up-to-date version, patients can expect to see better results in muscle building and fat reduction.
Does HIFEM muscle stimulation hurt?
Although every patient differs from the next, HIFEM treatments like EmSculpt Neo are renowned for being an incredibly comfortable procedure. Patients may feel some residual muscle aches in the days after their session, but this will resolve quickly.
How long is an EmSculpt Neo treatment session?
EmSculpt Neo is most effective when delivered in multiple shorter sessions. The standard length of a single session is 30 minutes.
How many EmSculpt Neo sessions will I need?
Though requirements will differ from patient to patient, most surgeons will recommend between 4-6 sessions spaced a few weeks apart.
Is there a non-invasive version of a tummy tuck?
For people with moderate to severe abdominal sagging, there is no procedure as effective as the abdominoplasty. However, patients with mild to moderate sagging who do not require skin excision may consider a combined HIFEM and RF treatment like EmSculpt Neo as a non-invasive alternative to smooth skin, strengthen muscle, and dissolve fat.
References
Giesse S. A German Prospective Study of the Safety and Efficacy of a Non-Invasive, High-intensity, Electromagnetic Abdomen and Buttock Contouring Device. The Journal of Clinical and Aesthetic Dermatology. 2021;14(1):30-33. https://www.ncbi.nlm.nih.gov/pmc/articles/PMC7869812/
Samuels JB, Katz B, Weiss RA, Samuels JB. Radiofrequency Heating and High-Intensity Focused Electromagnetic Treatment Delivered Simultaneously: The First Sham-Controlled Randomized Trial. Plastic & Reconstructive Surgery. 2022;Publish Ahead of Print. doi:https://doi.org/10.1097/prs.0000000000009030