Deep Plane Facelift
Offered at our convenient location in Denver
A deep plane facelift is an advanced facial plastic surgery procedure that adjusts the deeper layers of facial tissues for comprehensive facial rejuvenation. With this modern surgical technique, you can forgo the drawn, "windswept look" that risks revealing your beauty secrets. Instead, a plastic surgeon can make the fine adjustments necessary to tighten and transform your complexion on a deeper tissue level.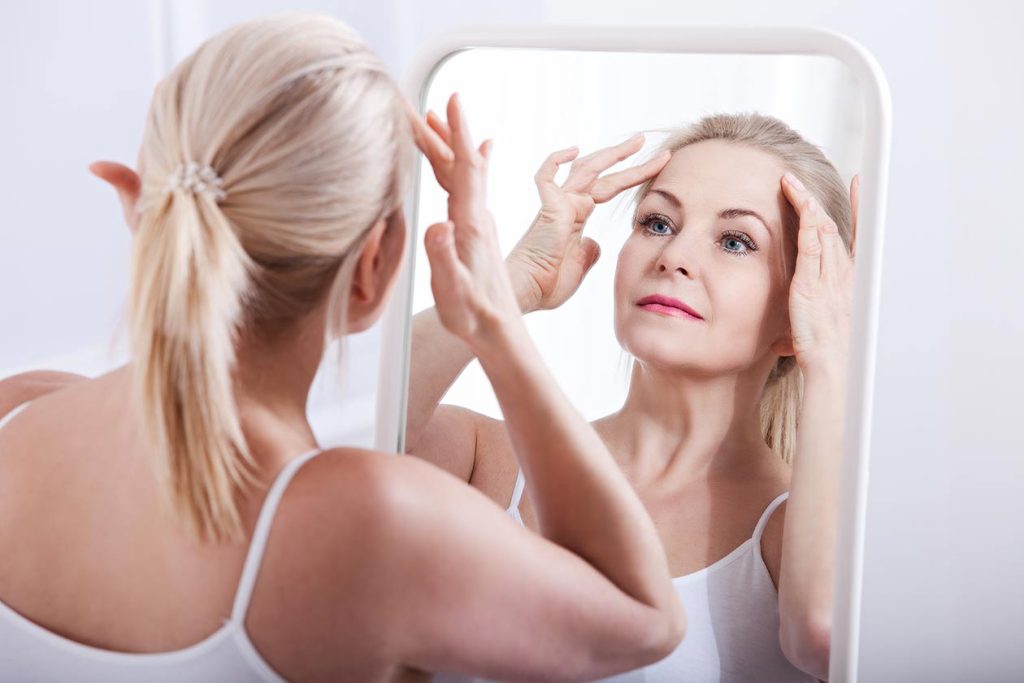 The Superficial Musculoaponeurotic System (SMAS) is a layer of collagen, elastin, fat, and muscle under the lowest layer of the skin. With the deep plane facelift surgical changes occur under the SMAS to smooth, lift, and add youthful facial volume for natural-looking, permanent results.
Dr. David A. Hendrick is a leading, triple board-certified plastic surgeon who can help you rejuvenate your face, and Millard Plastic Surgery Center is Denver's premier location for facial rejuvenation, breast augmentation, and body sculpting using VASER liposuction. Call us at (303) 792-5665 to schedule a personal consultation with us, or complete an inquiry form online for more details.
Before and After Photos
The Facelift
The rhytidectomy (facelift) facelift is a sought-after and popular cosmetic procedure. Patients consistently rank it as highly effective in reducing deep wrinkles, lines, and sagging. In fact, the facelift has been in the top 5 plastic surgery procedures performed since 2016, alongside breast augmentation, liposuction, blepharoplasty, and rhinoplasty. (1)
One reason for the facelift's success is that it can address many different signs of facial aging permanently, in one procedure. The deep plane facelift advances the transformation even further with dramatic but natural-looking smoothing, and augmented tissue volume, for a complete facial renaissance.
Rejuvenating the Aging Face
Signs of aging in the face become more challenging to overcome with time, particularly when soft tissue has lost its integrity. Tissue sagging can be difficult to resolve without surgery. There are many facial rejuvenation procedures available, but these are only temporary solutions to long-term issues. The most common signs of aging in the face include the following. (2)
Skin and soft tissue sagging
Tear trough deformities
Deep eye bag grooves
Loss of cheek volume
Pronounced nasolabial folds
Prominent jowls
Marionette lines
Wrinkles and lines begin as momentary creases, and facial laxity appears subtle at first. Depending on your genes, your lifestyle, and how much sun exposure you get, lines can become much deeper, and soft tissue descent can become much more challenging to camouflage with age.
Med spa treatments for facial signs of aging are currently very popular. Forehead lines, crow's feet, jowls, and nasolabial folds can all be addressed successfully for a few months with Botox and dermal fillers. Although these treatments are effective while they are working, the body quickly absorbs them in 6-12 months. The fact is, there are very few effective long-term solutions to aging in the face except for the facelift. The deep plane facelift takes the procedure to the next level, and involves significant changes to tissue layers below the skin.
What Makes the Deep Plane Facelift Different?
The deep plane facelift addresses signs of facial aging by altering structures most facelifts don't, making it one of the most effective treatment methods for facial sagging, deep lines, and deep wrinkles.
SMAS
The SMAS is a network of fibrous and fatty tissue. It lies beneath the lowest layers of the skin and subcutaneous fat. The crucial function of the SMAS is to connect facial muscles to the dermis, and its purpose is to aid facial muscle movement. Facial muscle contraction underneath the skin occurs thanks to vertical septae, thin bands of fibrous tissue that extend from the SMAS into the dermis.(3)
Retaining Ligaments
Connecting the skin and SMAS to the deeper fascia, the key retaining ligaments of the face and neck are altered during a deep plane facelift. These are: (4)
Zygomatic (Cheekbone)
Maxillary (Upper Jaw)
Masseteric (Cheek)
Mandibular (Lower Jaw)
Cervical ligament (Neck)
Deep Plane
The deep plane separates superficial soft tissue and the SMAS from the deeper facial muscles. A surgeon accesses this area during deep-plane facial rejuvenation via the SMAS. In doing so, they release the necessary facial retaining ligaments, for intricate adjustment and striking aesthetic results.
Benefits of the Deep Plane Facelift
Permanent solution to signs of facial aging
More refined than traditional techniques
Smooths and improves deep lines & wrinkles
Precise incision placement, barely visible scars
Deeper level than most face-lifting techniques
Customizable, individualized to patient needs
Subtle, natural-looking, lasting results
No "Windswept" Look
Procedural techniques have seen huge improvements when compared to older, less precise methods of facelifting. By adjusting tissues at the deep plane, your surgeon can correct subtle changes at a subdermal level. Gone are the days of tight, unnatural-looking "windswept" results, where others assume you have had a facelift. This procedure is a true investment toward your long-term beauty goals. And unquestionably, the best rejuvenation results come from the deep plane facelift.
Arrange your complimentary consultation at Millard Plastic Surgery Center to discover if the deep plane facelift is right for you.
Candidates
A facelift is ideal for the following candidates.
Between 40-60 years of age
Requires comprehensive improvement
Moderate to severe tissue descent/sagging
Poor cheekbone and jawline definition
Deep wrinkles and lines on the face and neck
Positive attitude toward surgical facial rejuvenation
Realistic about the results achievable
We will require you to quit smoking and cease use of alcohol before and after the procedure to ensure you get the best results. Similarly, patients with serious health concerns and patients allergic to certain types of anesthesia may not be eligible for the procedure.
Personal Consultation
At your personal consultation, you have the freedom to discuss all of your facial rejuvenation goals with us. Unlike semi-permanent treatments, the results from a facelift will last for many years, so it's important to ensure we help you address every issue! We will take some details about your medical history down. We will also ask you to provide a list of medications and dietary supplements you are currently taking.
After a thorough examination of the extent of your skin laxity, skin quality, and major areas of concern, we will determine if a deep plane facelift is right for you. We may also suggest other procedures that will augment and complement your facelift results. Once your consultation is complete, we will schedule your surgery date.
Contact Millard Plastic Surgery Center to schedule your facelift consultation.
Preparation
All patients should make a detailed plan before their procedure. We will give you written instructions to follow, including how to prepare for your surgery and your recovery. In most cases, we will require you to do the following.
Arrange 1-2 weeks off work with your employer
Stop taking aspirin/other blood-thinning medications
Stop taking any blood-thinning supplements (e.g. vitamin E)
Cease drinking alcohol and refrain from smoking completely
Fill your prescriptions a few days ahead of your surgery date
Arrange transportation to and from our facility
Prepare your home and daily schedule for your recovery
Find out more about 100% plastic surgery facility Insight Surgery Center. Please see our Out of Town section if you are traveling to Denver from farther afield.
Deep Plane Procedure
Dr. Hendrick conducts the deep plane facelift while patients are under general anesthesia or intravenous techniques, though local anesthesia may be an option for some patients. The deep plane facelift tightens the underlying SMAS layer and releases the septae that anchor the layer to underlying structures.
Once the necessary incisions are made, Dr. Hendrick locates the SMAS layer and makes an incision into it to access the deep plane. Through a series of precise facial ligament releases, the SMAS and overlying skin is then lifted away. He will then make minute but crucial adjustments to the lower tissue layers, according to your unique facial anatomy. Where patients have prominent jowling, he may remove part of the buccal fat pad. (4)
Once the underlying changes have been made, Dr. Hendrick lifts and smooths the overlying lax skin by tightening it toward a suitable position. Once he finds the most aesthetically pleasing point, he will remove the excess skin, refasten the facial ligaments, and suture the remaining tissues to anchor them in place. (4) We provide a bandage to secure your results, which must be worn for at least 24 hours following your procedure.
How Long Does a Deep Plane Facelift Take?
The deep plane facelift usually takes between 3-5 hours. If areas of your neck are included in your treatment plan, the procedure will likely be 4-5 hours.
Recovery
We will provide pain medication for your comfort in the days that follow. You can expect facial swelling and soreness while your body adjusts and begins to heal. In the days that follow:
Return to us for drain and dressing removal
Keep your head elevated when you sleep
Avoid strenuous activities (e.g. exercise, heavy lifting)
Continue to refrain from taking blood-thinning medications
Stay well-hydrated and don't overexert yourself
Results
Once swelling resolves, you will begin to see your results. However, the true results will be visible in the coming months as tissues settle into position. In most cases, you will be asked to return for an assessment of your results at 9 and 12 months. Once completed, your new, natural-looking facial rejuvenation will enable you to experience smoother, younger-looking facial skin, with no tissue sagging!
Cost of a Deep Plane Facelift in Denver, CO
The cost of your deep plane facelift will vary according to your facial rejuvenation goals. We will ensure you receive an estimate following your personal consultation. Please see our Financing page for information about our credit partners. Arrange the first meeting in your journey toward a brighter, tighter, more youthful-looking face. Call Millard Plastic Surgery Center at (303) 792-5665 or complete an online form with your appointment request.
Read more about facelifts, VASER liposuction, and other plastic surgery procedures by visiting the MPSC blog. You can also join us on Facebook, Instagram, and RealSelf to stay connected with Dr. Hendrick and Dr. Millard, Denver's premier plastic surgery providers.
References