Body Contouring For Men
Offered at our convenient location in Denver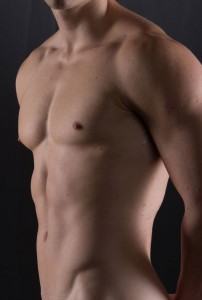 VASER Hi Def was introduced to the male torso in 2005 and saw rapid success and expansion in the male population. It was the first procedure introduced that significantly enhanced the athletic appearance of the male human form.
The Male anatomy is extremely unique from it's female counter-point. This is why it's imperative to seek out a knowledgable Male Sculpting Plastic Surgeon who is fully aware of the distinct muscle definitions, thicker skin components, hair variances and fat distributions.
The Five Steps of 4D VASER Hi Def: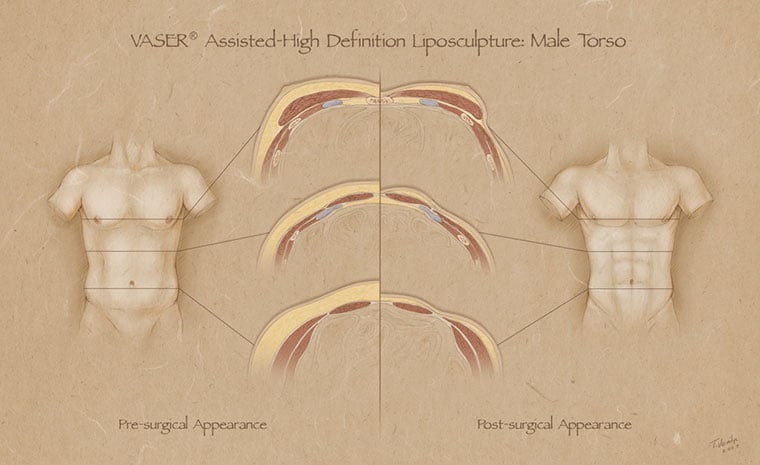 Step 1: Subdermal Fat Removal
Step 2: Deep Fat Compartment Removal
Step 3: Partial Fat Removal from the Superficial Fat Compartment and Superficial Fat Reshaping, and Muscle Definition enhancement between muscle groups
Step 4: Intramuscular Fat Grafting — To enhance muscle size, projection and shape.
Step 5: Subdermal Fat Grafting — Enhances projection and tightness of skin, which enhances youthfulness.
Tailored Male Torso Fat Removal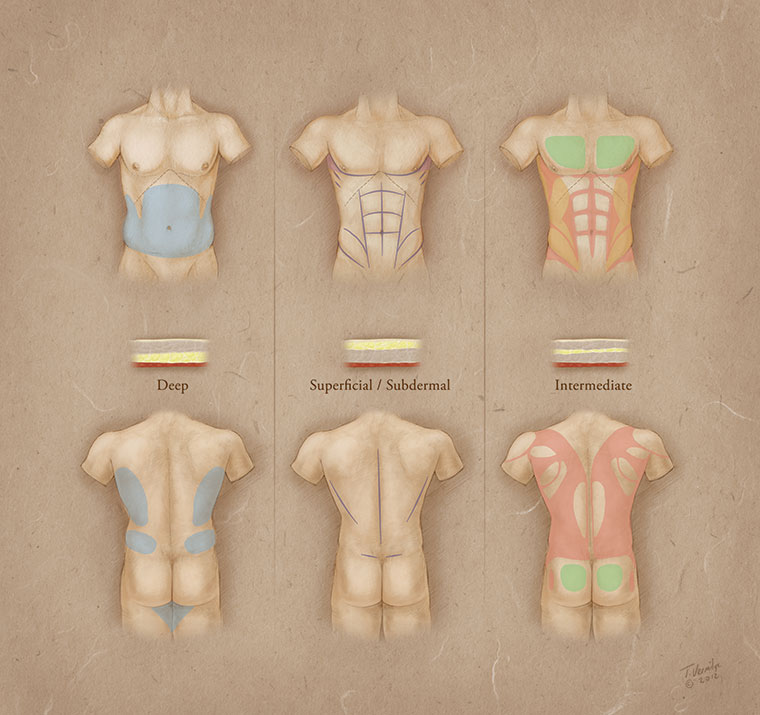 This illustration demonstrates the three different functional layers of fat removal that are used for Male Body Sculpting.
Blue: Represents Deep Fat Compartment Fat Removal
Orange: Represents Superficial Fat Compartment Fat Removal
Purple: Represents Subdermal Fat Removal.
Green: Represents areas where a combination of techniques can be used, including either fat removal or fat grafting depending on the patient's unique desires.
Strategic Male Pec Enhancement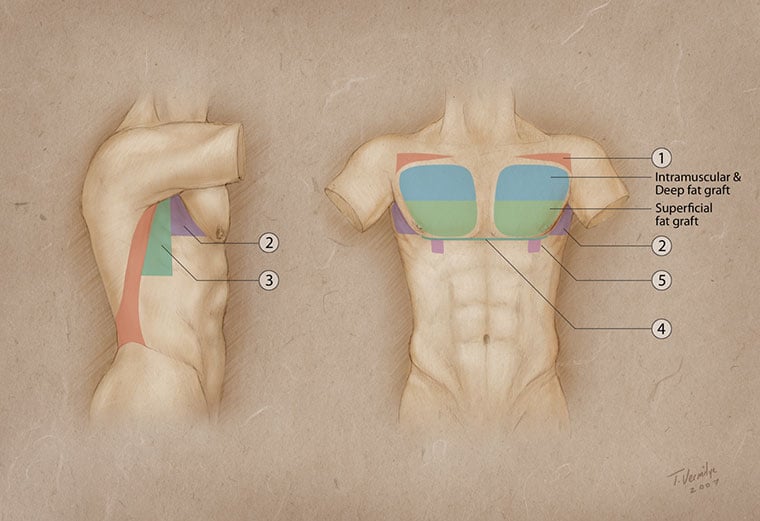 Three areas of fat are strategically removed on pectoral region to provide a sculpted chest, much like what we've seen for hundreds of years on art icons similar to the sculpture 'David'.
The difference in fat removal for each of these areas speaks to the dynamic shape changes seen with muscle movement in this area.
Purple — Represents an area where almost all fat, both superficial and subdermal fat is removed.
Green — Deep fat removal, with retention of superficial fat.
Orange — Removal of superficial fat with retention of deeper fat, to enhance the definition, subtilely of the latissimus muscle and the V-shape of the male back.
Enhanced Muscle Definition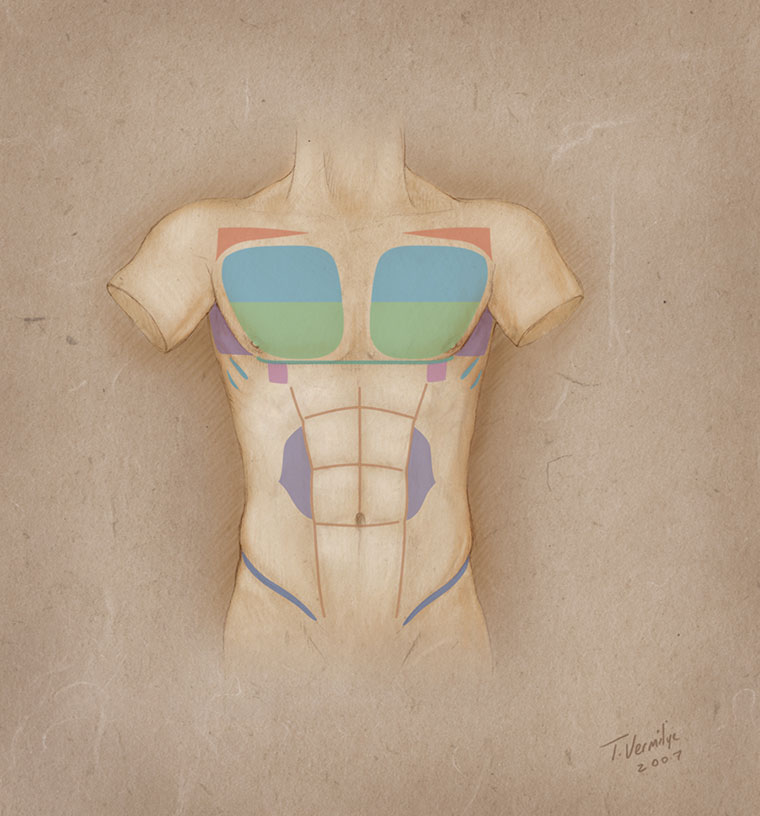 Pectoral Muscles:
Subdermal and superfial fat removal (there is no deep fat located here in the male chest) enhances chest oblique definition.
Lower Abs & Pelvic Crease:
Subdermal, deep, and superficial fat removal will maximally enhance the rectus muscle border below the rib cage and above the pelvic bones.
Upper Abs:
Subdermal and superficial fat removal maximizes definition between the chest and the abs.
Subdermal fat removal enhances the borders of the serratus and oblique muscles.
Subdermal and Superficial fat Removal (There is no deep fat located here) to maximally enhance definition between the chest and the lat's.
Blue: Intramuscular fat grafting is most common (this is the addition of your sterilized fat to muscle areas). This helps enhance size, definition and proportion.
Green: An area where one and/or two things can occur. This area has a sometimes prominent area of deep fat which requires removal. it is also an area that can benefit from either or both intramuscular and/or subdermal fat grafting as well.
Detailed Ab Sculpting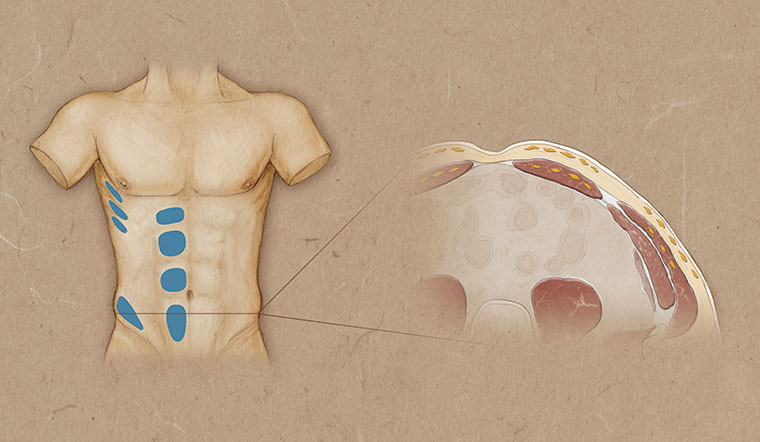 Intramuscular  and Sub-Dermal Fat Grafting is best to enhance the rectus and oblique muscles.
Before & After Photos
Bro-zillian (Male Buttock Augmentation)
The Fat grafting for a Male Buttock Augmentation is much different than it is for a woman. The goals for a male buttocks to be more athletic and more squared. Dr. Millard has named this procedure the "Bro-zillian" Butt Lift.
The Chest Sculpting Procedure:
A multi-layered fat grafting technique to the male chest enhances precise chest muscle curvature.
Submuscular Fat Grafting: Enhances pectoralis muscle projection.
Intramuscular Fat Injection: Enhances pectoralis muscle projection, shape and size.
Subcutaneous Fat Injection: Closer to the surface of the skin, a surgeon has greater control over the final shape and prominence of the male chest. This technique also aids in lifting a slightly ptotic (droopy) male chest.