SmartLipo
Offered at our convenient location in Denver
What is SmartLipo?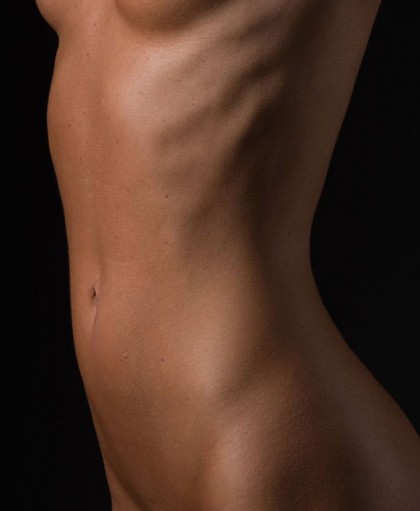 SmartLipo is an FDA approved minimally invasive procedure that suctions fat out of the body through a small tube. Differing from traditional Liposuction, the preliminary step before the suctioning is the signature melting and liquefying of the fat by it's laser energy. This makes it easier to suction the fat, or in some cases not suction at all and let the body naturally get rid of the melted fat. The laser energy also acts as a skin tightening agent which helps reveal optimal results. The laser causes collagen in the skin to compress and tighten. The sensation of a SmartLipo procedure has been compared to light pressure.
Before and After Photos
SmartLipo vs Traditional Liposuction
Although similar sounding, there are large differences between SmartLipo and traditional Liposuction. SmartLipo can be performed under local anesthesia, allowing the patient to remain awake during the procedure. Traditional Liposuction requires you to be sedated with general anesthesia which could lead to possible complications. SmartLipo uses a small incision, about the size of the tip of a pen, and the lasers firm the skin.
Bruising is minimal with the small incision as opposed to Liposuction. The incision for traditional Liposuction is large which causes longer and possibly more painful recovery. There is also no skin tightening involved with Liposuction, which may require you to additionally get a Tummy Tuck procedure since there will be an abundance of loose skin that working out will not get rid of. The laser used in SmartLipo liquefies the fat, allowing it to be easily suctioned. Liposuction requires doctors to manually break the fat and scrape it from the skin which can cause ripples underneath the skin.
Benefits of SmartLipo
SmartLipo poses much less of a risk than traditional liposuction methods. It is a minimally invasive, non-surgical procedure that requires little to no downtime as there is only very minimal swelling and bruising involved. SmartLipo also allows for additional 'sculpting' to your body, moving beyond simple fat removal and into the realm of muscle sculpting. The laser energy will also simultaneously tighten the skin, aiding in reversing signs of aging due to sagging or drooping skin.
Once the fat cells are targeted, they are permanently destroyed. The advanced technology makes it so just the fat cells are targeted, leaving any tissue, nerves, and blood vessels that surround undisturbed. This procedure helps in smoothing the appearance of cellulite as well.
SmartLipo can be performed using only local anesthesia. This means that the procedure can be done while you're awake and under local sedation only, which allows for a faster recovery. Further, local anesthesia costs less than general anesthesia, making it a more cost-effective procedure than traditional Liposuction. No stitching is required after the procedure, and results can be seen after the very first treatment.
Candidates
People who opt to receive SmartLipo are often drawn by the attraction of it's non-surgical, non-invasive advanced technology.
If you have a stubborn area of fat that is resistant to vigorous activity and dieting, SmartLipo might be a great option for you. Some of these problem areas include: neck, arms, abdomen, and thighs. You should be a non-smoker, in good health, and be near your ideal weight.
It is important to have realistic expectations as this procedure is meant to sculpt small, localized problem areas. A consultation with board-certified Dr. John A. Millard can help determine if SmartLipo is the right choice for you.
Treatment Areas
SmartLipo's advanced technology more often than not does not require any stitching. And if stitching is necessary, scars diminish and fade with time. This leads people to feel more comfortable receiving treatments on more areas of their body that are normally exposed such as the legs or arms. Patients find that their clothes fit better after a SmartLipo treatment.
The following are all the areas of the body that SmartLipo can beautifully sculpt at Millard Plastic Surgery:
Arms
Breasts
Chest
Axilla
Upper back
Lower back
Stomach
Waist
Flanks
Buttocks
Inner thighs
Outer thighs
Knees
Calves
Ankles
In order to make an informed decision on what areas to treat, an examination will be performed during your consultation to assess any and all areas that may benefit from a SmartLipo treatment. Explaining all areas on your body that you are unhappy with will help Dr. Millard with his assessment.
Consultation
During your consultation, you will have the opportunity to explain your problem areas to Dr. Millard. In order to provide you with the best results, he will also perform a thorough examination of your body and determine the perfect, personalized SmartLipo procedure for you that will give you optimal results.
Although results vary from patient to patient, you will be shown Before and After photos of patients with similar body types to show you approximate results. Additionally, any questions or concerns you may have about the procedure will be answered. It is important to inform the doctor of medical history and past procedures. Pricing questions can be addressed at this time as well.
Preparing for SmartLipo
During your consultation, Dr. Millard will give you a list of things to steer clear of the weeks leading up to your procedure, including, but not limited to:
Anti-inflammatory medications
Herbal medications
Stop smoking
Discontinue diet pills
Do not drink alcohol
In addition, you will be given a list of tasks to complete, such as:
Certain medical test and examinations
Take any medications prescribed
Adjust routine medications (determined by Dr. Millard)
Wear loose-fitting clothing to surgery
Inform the doctor if you begin to feel the slightest bit ill or under the weather prior to your procedure
Although non-invasive, some patients do experience slight discomfort. If you decide to take pain medication, it is important to arrange for someone to drive you home from your procedure as you will be unable to drive yourself.
Procedure
SmartLipo is just one of the many body sculpting techniques we use at Millard Plastic Surgery to reinforce our premium position in the body sculpting industry.
Depending on how many areas you receive treatment, a SmartLipo procedure typically can take between one and three hours. You will receive local anesthesia to control any discomfort. A small incision will then be made in the area that is being treatment. The laser fiber is inserted into the incision through a thin hollow tube. The fat is then targeted by the laser energy, and once liquefied it is then suctioned out. Many of our patients will have SmartLipo performed and be back to work within a few days after their procedure.
While this procedure is not a weight loss technique, it will remove stubborn fat pockets from various parts of your body. Eating healthy and exercising is important to maintain your beautiful results.
If you're interested in receiving a SmartLipo procedure, we encourage you to schedule a consultation at Millard Plastic Surgery. Dr. Millard will be able to determine if you're a good candidate for a SmartLipo procedure and you'll have the opportunity to discuss any questions and/or concerns with him.
Side Effects
Every procedure has certain risks associated with it, and SmartLipo is no different. Below are some of the potential risks associated with SmartLipo:
mild and temporary bruising
swelling
some discomfort
infection
blood clot
hematoma
All of the above will be explained in further detail during your consultation so you are fully aware of what may come of the procedure. If you have any questions about or other than the topics listed above, they will gladly be addressed during your consultation.
How to Maintain Long Lasting Results
In order to maintain your beautiful, newly toned body, it is important to take time to de-stress during your healing process. This can be accomplished by going to the spa, getting a massage (avoiding the treated areas for a while), or simply getting coffee with a friend. When you become stressed, blood pressure rises which can affect the blood flow to the treated midsection. Cortisol levels also increase with stress, which is linked to abdominal body fat.
Results are permanent for the treated areas as those fat cells are destroyed through the process. However, fat can still be accumulated in the surrounding fat cells that were not targeted. SmartLipo is not a substitute for exercise, so it is important to regularly work out and eat well. Continuously working out will keep the fat layer trimmed and tone the muscles, keeping your treatment areas firm and smooth.
Eating healthy is an immense aid in keeping the weight off. Dark leafy greens containing iron oxygenate red blood cells and help in the clotting process. Vitamin C found in citrus fruits boost the immune system, helping to dodge post-procedure infections. Reducing your sugar intake helps SmartLipo patients stay slim as well. As simple as it may sound, drinking plenty of water is critical to the recovery process. Hydration helps flush out any dead blood cells resulting from the procedure. The body's flushing also helps reduce any swelling.
Cost of SmartLipo
SmartLipo can vary in price depending on the amount of areas you receive treatment. It is also dependent on if you receive any other procedure in conjunction with a SmartLipo treatment. Pricing can be discussed during your consultation.