Bro-zilian Butt Lift For Men
Offered at our convenient location in Denver
While most butt lifts procedures are performed on women, a growing number of men are now seeking out this solution for a more rounded and shaplier buttocks. In nearly the same exact way that it is performed on women, your procedure utilizes fat harvested through liposuction from your back, abdomen and flanks.
Candidates
Men who meet the following criteria will make for the ideal Bro-zilian butt lift candidate:
At or near your ideal body weight
25 – 55 years old
In good health
Non-smoker
Physically active
Procedure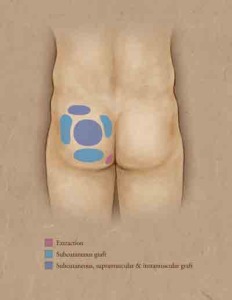 A Bro-zilian Butt Lift for men typically takes about 3 hours under general anesthesia. The procedure can be broken down into the following three parts:
Your hips and lower back will be liposuctioned first to make the buttock appear more prominent and athletic.
The goals for a male buttock augmentation are to restore the "Squired" muscular appearance of the buttocks.  In this way the goals are different than those of female buttocks augmentation.  Dr. Millard pioneered this technique in men and calls it the "Bro-zilian Butt Lift"
Fat suctioned from the other areas of your body will have been purified by decanting and centrifugation.
Purified fat cells will then be grafted (injected) into your buttock. Only a small percentage (approx. 25%) of the fat removed will qualify for re-injection.
Recovery
You should not sit on your buttocks for 10 days. This will aid in blood flow to the transferred fat and you will also wear a compression garment for approximately 4-6 weeks.
Risks
Changes in skin surfacing
Swelling
Nerve damage
Fluid retention