VASER Hi Def Lipo Knees & Calves
Offered at our convenient location in Denver
Sandals, shorts, skirts, and dresses: these clothes might sound like the perfect warm-weather attire. But for people who feel unhappy about the texture, bulge, or weight on their ankles, calves, knees, or thighs, moments where they need to reveal their legs can be torture. In the past, long pants may have seemed like the best solution, no matter the weather, when compared with what people could achieve with prolonged and uncomfortable liposuction methods; now, thankfully, VASER Hi Def can provide patients with their long-awaited leg makeover.
VASER Hi Def's overnight success quickly extended the technology to other parts of the body such as; inner and outer thighs, knees, calves, and ankles. People's goal of achieving a lean appearance in this body region made VASER Hi Def the ideal solution.
About VASER Hi Def for Legs, Knees, Calves, & Ankles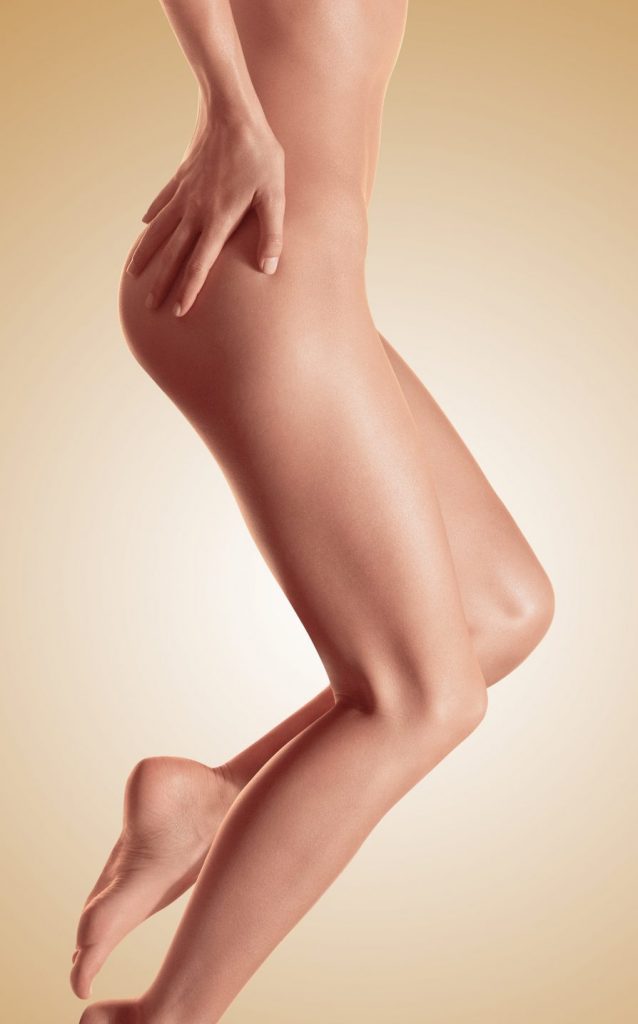 VASER Hi Def Liposuction enables doctors to remove stubborn fat deposits on a patients' legs, as well as to sculpt the patient's underlying anatomical structure. The results are smooth, shapely, more athletic-looking ankles, calves, knees, and thighs.
VASER, which stands for Vibration Amplification of Sound Energy at Resonance, utilizes advanced ultrasound technology to carefully break down fat. The ultrasound wavelengths create vibrations that agitate the tumescent fluid air bubbles released by the VASER device. When these air bubbles expand and contract under the vibration, they help to gently break down the fat and make it easier to extract.
VASER technology is intelligent enough to differentiate between the fat in the adipose tissue and the surrounding blood vessels, connective tissues, and nerves. This enables careful, accurate suctioning of the fat deposits. Nerves and vessels remain safe and intact. The surgeon is then able to sculpt the patient's legs to reveal and enhance the muscles that were previously concealed.
The procedure is a modern surgical technique that achieves high degrees precision body sculpting. While lower body exercises may need to be avoided for up to six weeks, patients tend to recover within a few days of their VASER Hi Def Liposuction. Patients can enjoy noticeably more shapely legs, with results that will continue to improve over three to six months.
VASER Hi Def Liposuction for the legs is not intended to be used as a weight loss solution. It is also recommended that patients who are not yet within close range of their ideal weight refrain from undergoing the procedure until their weight loss is further along. VASER Hi Def Liposuction has the added benefit of tightening patients' skin, the effects of which will be diminished if the skin continues to be stretched and then loosened.
Treatable areas with VASER Hi Def Liposuction for Legs:
1. Ankles
2. Calves
3. Inner Thighs
4. Outer Thighs
5. Knees
VASER Hi Def Lipo achieves a level of surgical precision capable of revealing the most artistic iteration of the human anatomy.
Contours and defines the patient's underlying muscle structure to give them a more athletic appearance in their ankles, calves, knees, and thighs.
VASER Hi Def technology is capable of identifying the difference between fat and the surrounding nerves and blood vessels. This ensures the surrounding tissues are not damaged during the procedure.
Capable of not only fighting cankles, fatty knees, or bumpy thighs, but also stubborn fat in most areas of the body, including arms, neck, abdomen, chest, hips, and breasts.
Traditional Liposuction Vs. VASER Hi Def Lipo for Legs
Traditional Lipo:
Traditional liposuction methods use suction or extraction that subjects the patient's body to trauma. The pulling or tearing associate can damage the tissue around the fat.

VASER Hi Def Lipo:
VASER uses cutting-edge ultrasound technology to remove fat, as well as a smaller cannula than most liposuction. This leaves the other adipose tissue unharmed.
Traditional Lipo:
Patients can experience bumps and rippling of the skin after a traditional liposuction procedure.
VASER Hi Def Lipo:
Skin retracts to a greater degree than before the procedure. As a result, the skin of the legs will be smoother than it was before the VASER Hi Def Lipo.
Traditional Lipo:
Risk of blood loss.
VASER Hi Def Lipo:
7.5 times less chance of blood loss than traditional liposuction. (Aesthetic Surgery Journal Study)
Traditional Lipo:
Average patient recovery time.
VASER Hi Def Lipo:
Faster than average patient recovery.
Traditional Lipo:
Patients encounter moderate to heavy bruising post-procedure.
VASER Hi Def Lipo:
Minimal bruising after a VASER Hi Def Lipo procedure.
CAPTION: VASER Hi Def Liposuction for legs, or ultrasonic assisted liposuction, provides better all-around results and recovery than power-assisted liposuction and laser-assisted liposuction.
Am I a Good Candidate?
Ideal candidates for VASER Hi Def Lipo for the legs are:
Active individuals who are close to their goal weight.
Struggling to lose certain areas of fat on their ankles, calves, knees, or thighs.
Open to the results of a body sculpting surgery.
Non-Smokers.
The VASER Hi Def Lipo procedure is not designed to remove large amounts of fat; the ideal VASER candidate is otherwise fit and healthy, but still fights troublesome deposits of fat in their legs.
Dr. Millard can address candidacy for VASER Hi Def Lipo during your consultation. To have any and all questions answered about how VASER can transform your thighs, knees, calves, and ankles, call Dr. Millard's helpful staff today to schedule your consultation.
Both male and female patients should aspire to maintain good muscle tone in their legs in the months before their procedure in order to see their best VASER results.
Liposuction is not designed to be a weight loss solution. Candidates are those who are willing to maintain a healthy lifestyle in the months following their VASER Hi Def liposuction in order to achieve their best, long-lasting results.
Your Consultation
Your consultation is the ideal time to have Dr. Millard answer any questions you may have about VASER Hi Def Lipo. After performing a thorough exam, and assessing your medical history, Dr. Millard will discuss how your calves, ankles, knees, and/or thighs can benefit from the fat eliminating and body sculpting capabilities of VASER Hi Def Lipo.
Every patient's body is different; the doctor's years of expertise will enable him to craft the best body contouring treatment strategy possible for their unique needs. If Dr. Millard feels a patient's best legs can be best achieved with a treatment other than VASER Hi Def Lipo, he will let the patient know before crafting a more appropriate plan of action for them.
Patients will receive customized preparation and recovery instructions before your VASER Hi Def Lipo procedure.
If you would like to inquire about your candidacy for VASER Hi Def Lipo for thighs, knees, calves, and ankles, please contact our office. We would be happy to get you started on your path to sleeker, more toned legs!
Five Steps of VASER Hi Def Lipo for Legs
Step 1: Subdermal Fat Removal
Step 2: Deep Fat Compartment Removal
Step 3: Partial Fat Removal from the Superficial Fat Compartment and Superficial Fat Reshaping, and Muscle Definition enhancement between muscle groups
Step 4: (If needed) Intramuscular Fat Grafting — To enhance muscle size, projection, and shape.
Step 5: (If needed) Subdermal Fat Grafting — Enhances projection and tightness of the skin, which enhances yo uthfulness.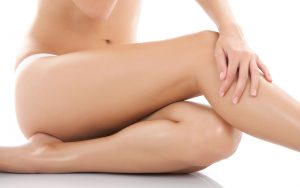 Patients may receive their procedure under general anesthetic, or local anesthetic; Dr. Millard will make the determination ahead of time with the patient, based on what will be appropriate for the extent of work being done. Each patient's procedure will vary according to the contouring needs of their thighs, knees, calves, and ankles.
Depending on your unique fat pockets, your deep fat will first be removed. Depending on your determined goals, this is usually followed by strategically removing certain areas of your circumferential subdermal fat (360 around your leg, below the skin). Certain areas of subdermal fat are left in your legs to enhance muscle definition.
It's important to note that deep fat is not continuous in the body, but located in separate pocket areas.
Primary Pockets of Deep Fat:
Central Abdomen
Flank Areas
Superficial fat surrounds the legs, thighs, calves, knees, and ankles.
Surgeons who do not work in the subdermal or superficial fat compartments are missing a large area of visible fat on the body.
Options
INTRAMUSCULAR FAT GRAFTING
Your obtained fat cells are sterilized and reinserted strategically into various muscle areas. This is a useful tool to enhance muscle projection, enhancement, and size.
SUBDERMAL FAT GRAFTING
A useful technique to fine tune shape over muscles, enhance tightness, and projection of shape of the skin over muscles.
Dr. Millard uses autologous fat grafting to enhance calves (gastrocnemius) and thigh muscles (lateral and medial quadriceps). This sculpting medium is also used in gluteal enhancements, breast enhancements and in many other muscles of the body.
After Your Treatment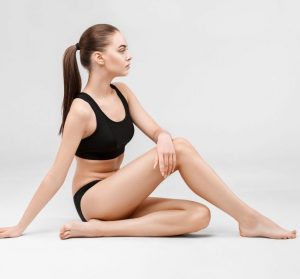 Once Dr. Millard assesses the outcomes of a procedure and approves the patient for same-day release, they are free to return home. Patients are required to have a responsible caretaker, schedule a ride home after their procedure and are encouraged to take a few days off work to allow their legs to recover. While it is recommended that recipients of VASER Hi Def Lipo take short, frequent walks during their initial recovery period in order to maintain healthy blood flow, they should abstain from strenuous lower body exercise for at least six weeks.
At the end of treatment, the skin may flush pink, and will likely experience bruising and/or swelling. Patients will wear a compression garment to help reduce these symptoms. Non-blood thinning pain medications like Tylenol or Advil can alleviate any discomfort at the approval of Dr. Millard. Later into your healing experience, patients can apply ice packs to provide relief from discomfort. These effects tend to have subsided completely in less than six weeks.
Results
Patients will see improvements in the appearance of their legs over the days and weeks following their VASER Hi Def Lipo. As the swelling subsides, the legs will reach their final, more toned and slimmer shape. The end result will be athletic-looking legs the patient can feel confident showing off to the world.
Best results will be visible in two to three months.
Every patient heals differently; Dr. Millard will follow-up with patients to ensure they are experiencing their best outcomes. Recipients of VASER Hi Def Lipo for legs are additionally advised to maintain a healthy lifestyle and stable weight after their treatment. While the procedure eliminates fat from the thighs, knees, ankles, and calves if patients' body weight fluctuates too greatly the results of the VASER Hi Def Lipo could be altered.
Price
The price of a patient's VASER Hi Def Lipo for legs will vary based on the number of areas to be treated and the scale of work to be performed. Once a patient undergoes their initial consultation, Dr. Millard will be able to provide the patient with a breakdown of the pricing of their unique treatment plan.
Fight stubborn fat and achieve the athletic, slim legs you deserve with VASER Hi-Def Lipo!
Call Millard Plastic Surgery's conveniently-located Lone Tree location to schedule your consultation.