Breast Reduction (Mammaplasty)
Offered at our convenient location in Denver
While large breasts may be considered sexy or attractive, they can actually be very burdensome, both physically and emotionally. Overly large breasts can result in chronic pain, poor posture, and even the inability to work out due to the agonizing pain. Large breasts can also create a continuous feeling of self-consciousness caused by unwelcome stares.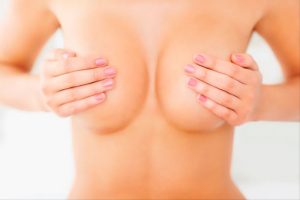 Nobody should be subject to living in such an uncomfortable way, and this is what breast reduction aims to fight for. Dr. John A. Millard has performed countless breast reductions for women of all ages. Breast reduction surgery gives women the long-awaited chance to live pain and worry free.
What is Breast Reduction?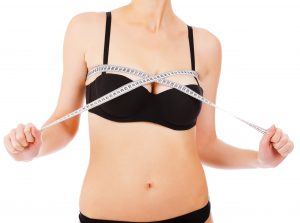 Breast reduction is a procedure which reduces the volume of the breasts to create a smaller, proportional bust. This is achieved by excising skin, tissue, and fat until the breasts are made to be the desired size. During the course of this procedure, the nipples will be resized and/or repositioned to compliment the smaller bust. The breasts are often lifted as well to help ensure lasting results.
Breast reduction can provide substantial results on its own, or greatly be enhanced with the addition of other body contouring procedures such as a tummy tuck or SmartLipo.
Women who receive breast reduction (mammaplasty) surgery are often our most satisfied and excited patients. You'll not only regain an enhanced appearance and newfound sense of self-confidence, but you'll also reduce or eliminate chronic health conditions.
Symptoms of Macromastia
Macromastia is the condition of having abnormally large breasts. If you experience any of the following aches or hindrances, the condition is considered symptomatic macromastia.
Ongoing neck/back/shoulder pain
Unable to perform physical activities
Bad posture
Chronic rashes
Irritating bra strap grooves on your back and shoulder
Difficulty fitting into bras/clothing
Breast reduction surgery is one of the most commonly performed procedures in the United States, and extremely effective at treating symptomatic macromastia and improving the overall health and self-esteem of patients who elect the procedure.
Breast Reduction Candidates
Candidates for a breast reduction are women who suffer from symptomatic macromastia but are in otherwise good health. (Males interested in breast reduction should refer to male breast reduction) Women seeking breast reduction experience the physical strains that come with macromastia such as chronic neck and back pain, difficulty sleeping, and the inability to do certain exercises, as well as the emotional stress that stems from constant stares or unwanted comments. To see if you would be a good candidate for breast reduction surgery, please feel free to call us or schedule a consultation online and Dr. Millard will gladly assess your candidacy.
What is the Ideal Breast Size?
There is no such thing as the "perfect breast size." What may be considered an ideal breast size is a size proportionate to the rest of your body. Over time though, your breasts can change due to factors such as weight loss and gain, aging, hormonal imbalances, and gravity, making them unproportionally large. Breast reduction surgery is meant to decrease the volume of the breast and restore "ideal" bust proportion, which may make it the perfect size for you.
Techniques We Use
Breast reduction procedures are tailored for each patient's individual needs. The procedures work off 2 base techniques: vertical incision or anchor incision. The method chosen will be based on the extent of the reduction and your desired outcome; Dr. Millard will be able to make this decision after your consultation examination.
Vertical Incision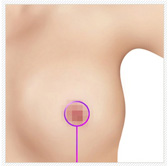 Alternatively known as the lollipop incision because of its shape, the vertical incision method is performed with a circumferential incision around the border of the areola, and an incision from the base of the first incision to the base of the breast. Dr. Millard will excise skin, tissue, and fat to achieve the desired size. From the circumferential incision he also has the ability to decrease the size of the areolas if desired as well. This same incision can be used for breast lift procedures, so the vertical incision can provide a smaller, lifted, perky bust.
Anchor Incision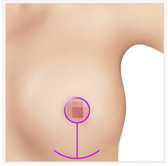 Following the pattern of an anchor, the first incision is made around the circumference of the areola, then down to the inframammary fold, and a third incision is made along the length of the inframammary fold. This technique is reserved for women with extremely large breasts who require extensive reduction. These patients usually have lost a significant amount of weight.
Consultation
At your initial consultation, you will have the opportunity to express your dislikes about the size of your bust and your desired goals. You should also share past medical history and routine medications you are taking. At this time he will perform a detailed examination to assess a personalized treatment plan, taking into consideration your current bust size, your ideal bust size, body proportions, and quality of skin. He will also provide personalized preparation tools and postoperative instructions based on the tailored procedure technique that will provide you with optimal results.
It is important that you are comfortable with your decision to undergo breast reduction surgery, so please ask any and all questions you may have, even if you think they may not be relevant because all questions are important.
How To Prepare
There are certain preparation instructions that need to be completed before breast reduction procedures. For all cases, additional personalized instructions will be given to help enhance your individual results. Usually, all patients are asked to:
Complete any medical examinations and test assigned by Dr. Millard; this will always include a mammogram.
Pick up all medications he prescribes before your surgery.
Do not smoke, drink alcohol, or consume anti-inflammatory medications 3 weeks before your surgery. These increase the amount of bleeding and recovery length.
Make sure a friend or family member is available to drive you home after your procedure.
Arrange for someone to stay overnight with you to help in at least the first night of recovery. Having them help with your kids is extremely beneficial to your healing process.
Wear a loose fitting wrap-around top on the day of your surgery (or bring one) to avoid needing to lift your arms.
Make sure necessary recovery items are all place at counter level so range of arm motion is not stretched past approval.
Breast Reduction Surgery
Breast reduction surgery begins with Dr. Millard marking spots where the incision will be made while you are in a seated position. Once you lay down for surgery your breast shape changes, so this preliminary step is to ensure accurate results.
The entire procedure takes roughly 2-3 hours, and is performed under general anesthesia on an outpatient basis.
Once you are anesthetized, Dr. Millard will make the incision initially marked and begin to excise skin, tissue, and fat appropriately. Once the desired size is reached, the incisions are sutured closed and covered with bandaging. You will then be relocated to the recovery room where our attentive staff will monitor you as you gently wake from the anesthesia.
Ancillary and Alternative Procedures
Breast reduction is a highly effective procedure on its own, but it does has some suitable ancillary or alternative procedures that can greatly optimize results.
VASER Breast Reduction
Another option to consider is VASER breast reduction. Dr. John Millard is pioneering a revolutionary breast reduction method for removing excess breast tissue. VASER breast reduction is highly effective, allowing Dr. Millard to remove more fat from a targeted area with less risk than traditional liposuction. Significant skin tightening is also achieved with a modest lifting of the breasts. It is performed through two incisions on each breast; each incision is about 2-3 millimeters. The final result is a much more sculpted look with firmer, rounder, and smaller breasts that are in proportion to your body shape and size. VASER breast reduction patients typically experience a more rapid recovery and are able to return to regular routines and workouts with 1-2 weeks.
Breast Lift
A breast lift is almost always performed with breast reduction to gain a smaller and lifted bust. The lift is accomplished through the same incision made for breast reduction, removing the appropriate amount of skin to achieve a youthful positioning.
Tummy Tuck
A tummy tuck is a cosmetic procedure which surgically tightens the abdominal muscles and removes lax abdominal skin to achieve a flatter, defined midsection. A tummy tuck + breast reduction is often referred to as a Mommy Makeover, helping restore mother's pre-baby bodies.
Postoperative Recovery
After Dr. Millard closes your incisions, your breasts will be wrapped in bandaging and/or a compression garment around your breasts to decrease swelling and help support during the healing process. Drains may be placed to catch excess fluids depending on the case.
Sensitivity or soreness in the breasts and nipples is normal and will subside over time.
Pain medication can be prescribed to help with discomfort if you desire.
A large majority of breast reduction patients are able to go home the same day, but you should take 7-10 days off from work to rest and recuperate. You should have a friend or family member help take care of your kids so you can be ensured relaxation during your recovery. Walking and light activities are helpful for the healing process. Shortly after, you will be able to workout and actually be excited about it!
Price
The cost of your breast reduction procedure will vary depending on the extent of your case and if you choose to undergo ancillary procedures. Unlike most other plastic surgery procedures, breast reduction may be covered by insurance. However, Millard Plastic Surgery does not accept insurance, so it would be considered self-pay cosmetic through our office.