EMSCULPT is a body contouring system that uses high-intensity focused electromagnetic field (HIFEM) energy to stimulate muscle contractions. (1)
EMSCULPT can be used to tone abdominal muscles and eliminate fat deposits on the waist. It can also be used to tighten and sculpt the buttocks. EMSCULPT is non-surgical, non-invasive, and uses a painless applicator that transmits energy safely through the skin to stimulate the underlying muscles. 
There are many body sculpting solutions available to patients today, but none of them have the unique advantages that EMSCULPT does.
Dr. John Millard is a board-certified plastic surgeon who is dedicated to the art and science of body sculpting. In fact, he regularly educates other physicians about using high-quality body sculpting and liposculpture techniques to create aesthetically considered effects. 
Because of his intense focus on achieving ideal, natural-looking results, Dr. Millard stays current on the latest body contouring technologies so that he can offer his patients the latest state-of-the-art technology and perfect proportions. EMSCULPT boasts a host of advantages to patients wishing for smoother contours and more defined musculature, and he's thrilled to offer this technology to his patients.
To learn more about EMSCULPT and the other body sculpting procedures that Dr. Millard offers, call his Englewood, Colorado office at (303) 792-5665.
About Body Contouring
The body contour is determined by three factors: 
The amount of fat present beneath the skin
Skin laxity
The muscle mass under the layer of fat
Liposuction has been the traditional route for reducing body fat, and this technology has seen significant advances in precision and safety in the past several years. For those who have undergone massive weight loss, skin surgeries or "lifts" are used to treat the large amounts of sagging, lax skin left behind.
However, the third component of our anatomy that also contributes to our overall shape is our underlying muscle mass, and EMSCULPT seeks to address just that.
Despite all the focus on fat, it only accounts for about 25% of our body composition.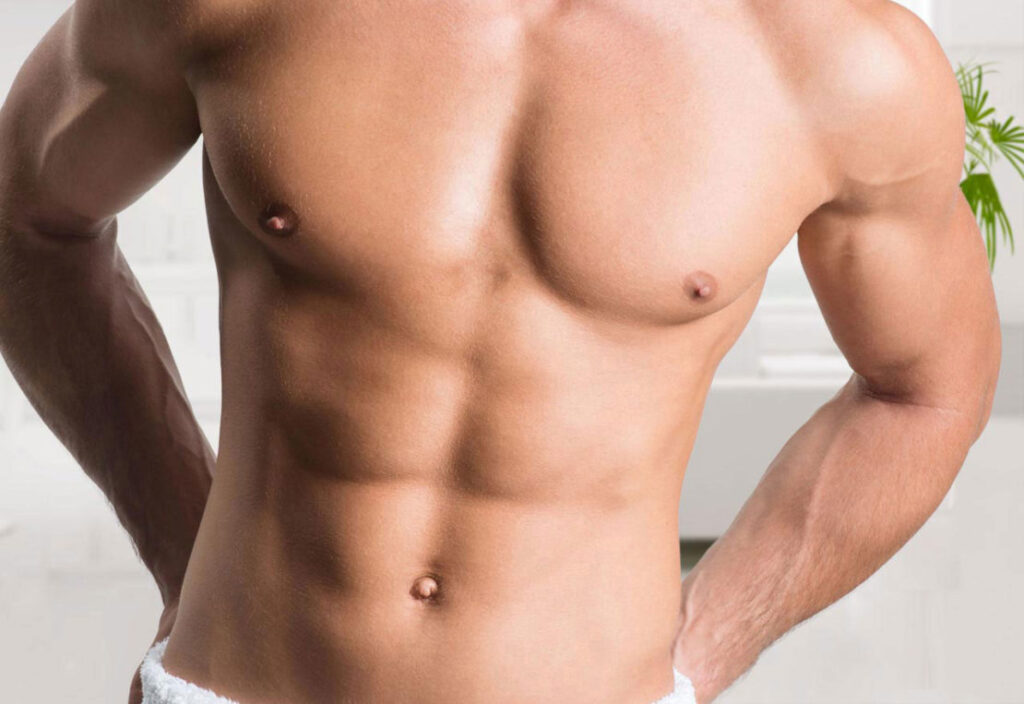 Muscle tissue, on the other hand, comprises a much larger portion of the human body. 42% of the male body and 36% of the female body is made of muscle. Regardless of how much or little fat you have, it's the shape of the underlying muscle that will ultimately dictate your curves and contours. (2)
Until EMSCULPT, the only way to target this structure was with physical exercise. (1)  
But one of the main advantages of EMSCULPT is that this technology achieves what regular exercise can't! 
EMSCULPT Advantages
Non‐invasive body contouring procedures are more popular than ever.
In fact, the number of these procedures performed in the US between 2012 and 2016 more than doubled. (2) It's no wonder. Americans are busier than ever, and many are unwilling to commit to the long recovery time that surgical procedures entail. EMSCULPT is different from other invasive and non-invasive body contouring systems. It targets muscles, which react to naturally become toned, sculpted, and strengthened. 
EMSCULPT uses a revolutionary high‐intensity focused electromagnetic field (HIFEM). This system uses alternating magnetic fields to generate electrical currents that trigger supramaximal contractions in the targeted muscles. This electrical current causes the muscle to perform beyond its maximum abilities (supramaximal) in the normal range. As a result, the muscle does not only increase in size, but new muscle cells are able to form. Regular exercise simply can't do this. And, because the muscles that EMSCULPT targets contract with such force, they require extra energy, which the body supplies by burning fat cells in the area. (4)
Advantages for Abs
This fat-burning ability is what makes EMSCULPT such an effective treatment for the abdomen, where adults tend to store stubborn deposits of fat.
Increased core strength, metabolism, and fat-burning lead to a cascading effect that allows EMSCULPT results to continue long after a single body contouring session has ended. This has proven to be especially helpful for women looking to improve the strength and appearance of their abdomen after pregnancy.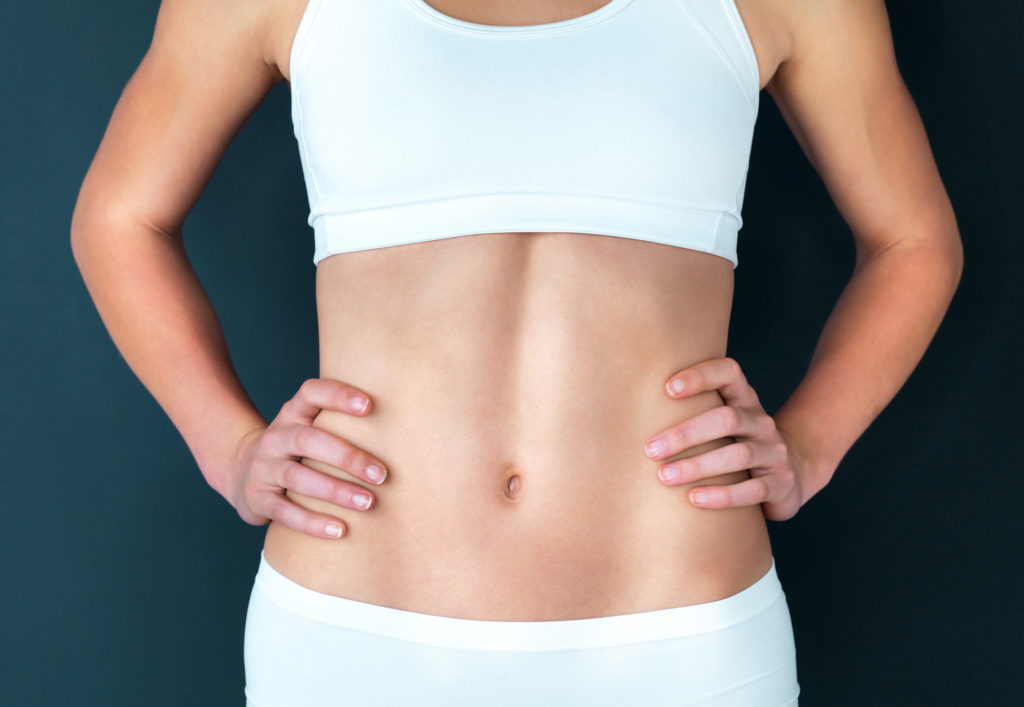 A common condition that occurs after the abdomen has been forced to expand to accommodate a pregnancy is called diastasis recti, in which the abdominal muscles become separated leading to a drooping, protruding belly that lingers long after the baby has arrived. Procedures like Mommy Makeovers incorporate a tummy tuck precisely to remedy this condition. Abdominoplasties, or tummy tucks, are a popular solution to diastasis recti, and over 130,000 procedures were performed in 2018 in the US alone. However, the average abdominoplasty is a 2 to 5-hour long procedure and requires 2 to 4 weeks of downtime. Fortunately, EMSCULPT has proven to help build back some core strength while also being non-invasive and needing no downtime.
EMSCULPT is able to tighten and strengthen the abdominal muscles, which effectively reduces the amount of space between the separated muscles. A recent study showed that postpartum women were able to achieve a 10% reduction in the space between these muscles, a 15% increase in the thickness of these muscles, and an 18% reduction in abdominal fat after EMSCULPT. (3)
Benefits for Buttocks
EMSCULPT for the buttocks is able to preserve the fat that gives an ideal bottom its voluptuous curves, while still targeting specific muscles that add definition and volume to the buttocks. By subjecting the gluteus maximus and gluteus minimus to supramaximal contractions through a specially designed series of pulses, EMSCULPT ensures that you have tight and toned curvature in all the right places for a perfectly sculpted derriere. In short, EMSCULPT shakes your booty for you!
Candidates in Colorado
Candidates for EMSCULPT are seeking a body contouring solution without surgery, scarring, or a lengthy recovery. EMSCULPT is not for women who are currently pregnant, and not for those with implanted electronic devices like pacemakers. Studies have shown that EMSCULPT shows the best results in people with lower BMI's. So, if you're close to your target weight and looking to tone, strengthen, and blast belly fat, EMSCULPT is the body contouring treatment for you.
Personal Consultation
When you visit Millard Plastic Surgery for your personal consultation, you can expect personalized attention in a friendly environment. One of our expert staff members will review your medical history and discuss your aesthetic goals. We'll answer all your questions about EMSCULPT, and if it's the right procedure for you, we'll be able to give you an estimate as to the number of sessions you'll need to get the butt or abs of your dreams.
To learn more about the services that Millard Plastic Surgery Center offers and other cutting-edge contouring technology, check out our blog!
Procedure and Results
Another advantage of EMSCULPT is the ease of this procedure.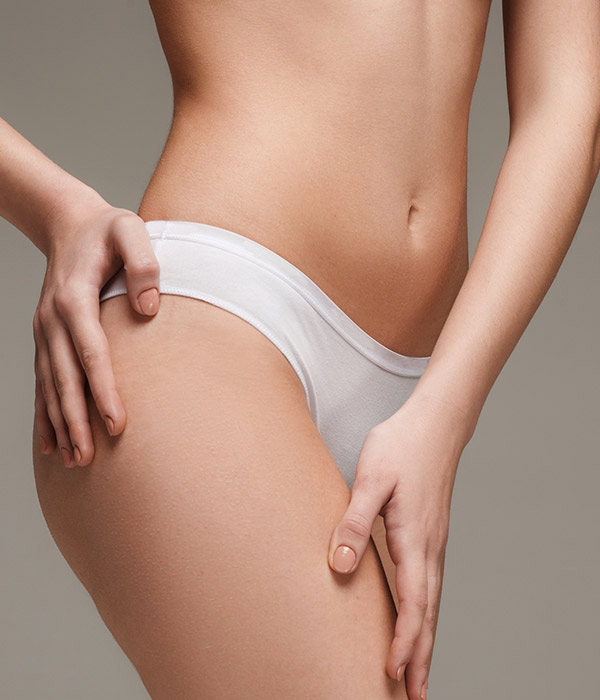 Patients recline comfortably, and the EMSCULPT applicator is placed on the area to be treated. A technician controls the strength and duration of the pulses, and you don't have to move a muscle- EMSCULPT's HIFEM technology does it for you. Patients report that EMSCULPT isn't painful, but does produce an unusual sensation. Afterward, mild muscle soreness is to be expected, but it typically dissipates in a day or two. When your EMSCULPT session concludes, you'll be able to continue your day. You'll feel great, knowing that you've had an intensive workout without smelling like the gym! 
Most patients start to see results after their third or fourth EMSCULPT session. But don't forget, one of EMSCULPT's advantages is that your muscle development and fat burning continue long after the end of your sessions. You'll be able to look forward to continued muscle tone, definition, and strength.
Cost
Millard Plastic Surgery offers EMSCULPT sessions for $800. Or, opt for one of our packages for ultimate value. A package of four sessions is $3,000 for four sessions. Make sure to sign up for special offers to score additional savings so that you can look and feel your very best – and that's priceless. If you'd like to learn more about EMSCULPT and the number of sessions that will get you the results you're craving, schedule a consultation with our office by calling our Englewood office at (303) 792-5665.
FAQ
What are some of the advantages of EMSCULPT?
EMSCULPT is a non-surgical, non-invasive body contouring system with no recovery time. Patients lay back and relax while EMSCULPT's high-intensity focused electromagnetic energy stimulates supramaximal muscle contractions that aren't able to be achieved by regular exercise. These intense contractions lead to fat burning for a slender waist, or toned and lifted buttocks. 
Does EMSCULPT hurt?
EMSCULPT doesn't require any kind of anesthesia or pain medication. Patients report an unusual sensation during the procedure, and mild muscle soreness afterward.
References